To escape massive cost on subscriptions or high rates of movies or music videos on the internet, people tend to download their loved files through Torrents. But, torrents are not a fully secure way of downloading and these days with the increase in the cyber crimes, many government institutes and to monitor the activities of students on the internet, some educational institute tends to track the peer-to-peer traffic and every log internet activity. So, there is always concern about privacy while using torrent for downloading or uploading files. Seedbox combined with right tools can help you to solve these privacy issues.
What is a Seedbox?
So, what exactly is a seedbox? Seedbox is a kind of remote server that works as high-speed data center which uses a public IP address and can allow users to download or upload files safely on the internet over the torrents at very high speeds. If you own a seedbox, you can download or upload any data over the internet through personal computers at any time from any place with an internet connection. Simply, seedbox can be compared to a computer that has a super fast internet connection and can only perform actions of downloading and uploading torrents.
Seedbox has very high speeds which generally ranges from around 100 Mbps to 1250 Gbps (8 MB/s to 1250 MB/s). With a seedbox, one can download files onto their computers or upload data over the internet through torrents anonymously. Seedbox is generally used as a dedicated server or VPS seedbox to increase their upload speed on the trackers. There are many seedbox providers available at various costs and rents, of which there are some best seedboxes that are available at meager prices.
Why you should use a Seedbox?
The immediate question that pops in anyone's mind is that, why should he or she use a seedbox though they have high-speed internet and VPN services installed in their system? To answer such questions, here are some situations where seedbox can help users' and protect their privacy:
Peer-to-Peer traffic is Prohibited
This is the most common scenario faced by many people. In many places like workplaces or educational institutes, peer-to-peer downloads through torrents are forbidden. In such cases, a seedbox will help to download or upload any files anonymously from any place at any time. Seedbox has a built-in web browser. This browser allows users to download files remotely and load them to a computer whenever possible.
Privacy & Anonymity
The Internet is a public place, and many people can access others information through many channels available over the internet. With a seedbox, we can download or upload files anonymously, and no one can monitor our activities as it gives access only through account login. So seedbox torrenting helps you to download or upload files without privacy issues.
Lack of time and Overusing of Hardware
In this busy life, we cannot guarantee our stay in one place for more time. Hence, we cannot download some large files within a short time over computers or mobiles. So, seedbox will help you to download these files at any time and leave it running until you return. Also, seedbox can be accessed from anywhere with internet connection, and this helps users to download their required files. Another important use is, your computer hardware may be overheated or loose memory with continuous downloads. So, seedbox can act as a substitute for both functions. Thus, it can download from a separate machine and can also store the file in seedbox for later use.
Higher Download Rates
The download speed provided by seedboxes is unmatchable. They help users to download files at speeds of 10 Mbps to 1 Gbps. The seedbox speed is so fast that sometimes even harddisks gives error while downloading due to their limited writing speed.
How to Use a Seedbox?
Each seedbox has its one or more torrent clients with an inbuilt user interface that helps users to login via any web browser and control and manage your seedbox. Once logged in the interface, you can load torrent files or torrent URLs which you want to download, and once loading is successful, it will start downloading the files immediately remotely without any tracks to the local IP of the desktop.
Once, the download is completed, the downloaded is hosted on seedbox to download into your system. You can download these hosted files whenever you wish and downloading is generally done by FTP or SFTP connection to the seedbox through FTP clients. Some seedbox providers will also allow HTTP file browser that will help you to download files from seedbox through the web browser.
Now, after knowing clearly getting knowledge on what is seedbox and why it is useful, you may be thinking how to get the best seedbox? There are many seedbox providers which have different unique features and some at cheaper rates will make you difficult to choose the best cheap seedbox.
By now, you might have got some doubts like what's the purpose of VPN then. Check out our other article on the difference between VPN vs Seedbox to know the usage purpose of both VPN and Seedbox. Read on this article, to know about some of the top-rated seedboxes based on seedbox reviews available in the market and make an informed decision on choosing the best cheap seedbox.
Best Seedbox Providers
1). Cloudboxes.io
Cloudboxes seedbox offers one of the easiest and reliable service providers for data which can be availed at different price ranges. It provides various features such as file manager, Plex media servers, OpenVPN and incredible customer service to its name. It comes with a very user-friendly interface that makes even a nontechnical person use this interface very easily. Cloudboxes.io provides different torrent clients to choose from which can be installed and accessed through web interface within seconds.
It offers excellent speeds, and speed varies based on the torrent client from where the file is being downloaded. On average it offers a speed of 80-100 MB per second till the end of the download. It also provides a single file manager where users can manage all downloads. Another important feature of this seedbox is Plex media server. So, can be used as best seedbox for plex but with the only problem of authentication.
Whenever you try to access the web interface, the user needs to authenticate the account. It also has option OpenVPN which helps users to increase the privacy while seedbox torrenting. It also has various applications such as Jackett, Sonarr, Radarr, and Couchpotato, etc. that helps to automate the downloading procedure.
Pricing
Cloudboxes.io comes at three different ranges of costs which are as follows: small plan offers 1 TB of disk space, 4 TB of outgoing traffic and unlimited incoming traffic at an uplink speed of 20 Gbps. It comes at a cost of 14.95 Euros/month. Whereas, the medium plan offers a disk space of 3 TB and 12 Tb of outgoing traffic at an uplink speed of 20 Gbps with unlimited incoming traffic. Cost of the medium plan is 29.95 Euros/month. The large plan has a disk space of 6 TB and outgoing traffic up to 35 TB with an uplink speed of 20 Gbps. It also offers unlimited incoming traffic at a cost of 79.95 Euros/month. It also provides excellent customer service to help with any queries of customers.
2). Rapidseedbox
Rapidseedbox is a high-performance VPS seedbox which offers unlimited bandwidth, a unique dedicated IP address along with remote desktop feature and RAM for all needs as specified in the website of Rapidseedbox. True to their description, Rapidseedbox boasts unlimited bandwidth along with several pre-installed applications and comes with various monthly, weekly and annual plans to help the customers, unlike many seedbox providers who only offer either monthly or yearly packages.
Rapidseedbox comes with a user interface application that is compatible with Windows OS, CentOS, and Ubuntu. It has pre-installed apps such as Firefox, Dropbox, FileZilla, OpenVPN, XHCE Desktop and HandBrake and many more. It supports torrent clients such as Deluge, rTorrent and uTorrent which allows users to download files from popular torrents.
Rapidseedbox also is known for best seedbox for plex as it can Plex media server with premium plans. The unique feature of Rapidseedbox is to make your activities anonymous. It also allows users to share their server with up to 11 other members based on the plan chooses.
Pricing
Rapidseedbox's specialty is their wide range of plans which helps customers to choose a suitable plan based on their choices. The cheapest plan comes with $5 with 2 CPU cores, 2 GB of RAM and 500 GB of storage. There five different plans namely, Furious, Rapid, Stream, quick and fast. Fast is the cheapest plan which as above discussed, offers 2 CPU cores, 2 GB memory along with pre-installed apps and OpenVPN and it costs $ 15/month if monthly plan is chosen, and in annual plan, it costs $15/month (180 $/year) whereas quick package comes at $26/month for yearly plan and 26 $/month for monthly plan and has same features of fast package except for 4 CPU cores, 1 TB storage, and 4 GB RAM.
Premium Features
Premium features are Stream, Rapid and Furious which comes with 4 CPU cores at more costs and supports all features of the quick and fast package along with Plex and OpenVPN. Furious is the costliest plan with $57/month for an annual plan and comes with 11 GB RAM, and 2.8 TB storage and remaining plans costing of half the amount comes with half capacity.
Pros & Cons
As said, pros of Rapidseedbox would be the wide range of plans available for customers which can help to choose the package based on their requirements. They provide control options to users unlike some seedboxes and provide unlimited traffic. There is a couple of red flags, like speed is 1 Gbps for all plans and as rapid seedboxes can be shared, bandwidth and download and upload speed may change regularly, and costs of their plans are bit higher than most of the competitors.
3). Seedbox.io
If you are looking for seedbox with decent rates along with decent features, then the seedbox.io provider can be best for seedbox torrenting. It comes with the price range starting from 5 Euros/month and has dedicated servers for the customers. They provide dedicated servers with premium networks and will also share networks. It offers great speed, and the upper limit of speed will change with different plans. It supports all types of transfer protocols like FTP, FTPS, SFTP and HTTP along with user interface that makes easy for users to download files. They offer a minimum of 10 Gbits uplink speed on all servers which enhances the performance. But, cons of this seedbox is it only has limited apps and plex is supported only on dedicated boxes.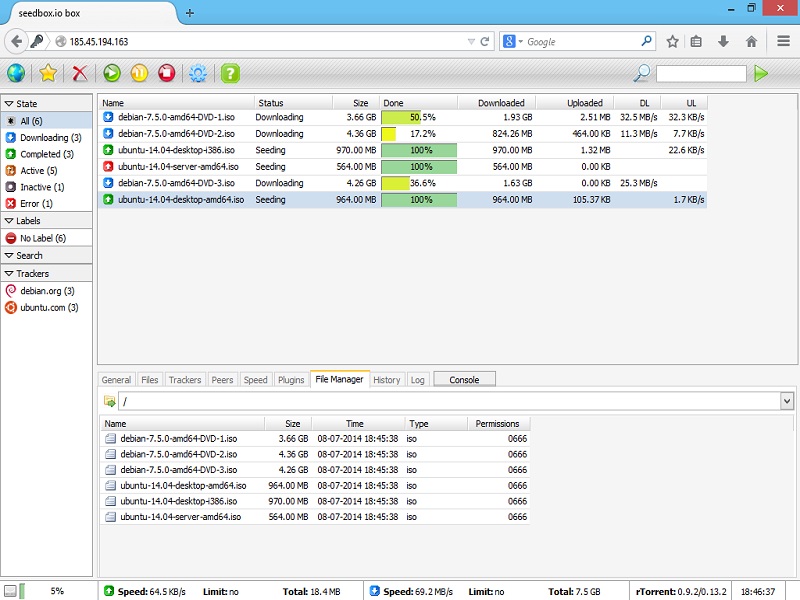 The attracting feature of seedbox.io is its wide range of plans that are available at both cheap and premium levels. Mini-slots comes at lower costs and offers speed of 100 Mbps and also VPN is not included in these plans. Mini-slots come at different prices as, 5 Euros/month with 200 GB storage, 7.5 Euros/month with 300 GB, 10 Euros/month with 400 GB and 500 storage plan cost 12.5 Euros/month.
Premium Plans
Premium plans include all VPN services that privacy of users and comes with speed of 1000 Mbps or 1 Gbps and the cost is not high when compared with other seedbox providers. Various plans of premium are as follows, 14 Euros/month for 600 GB, 16 Euros/month for 700 GB and 18 and 20 Euros/month for 800 GB and 900 GB of storage respectively. It also offers 14-days money back guarantee offer.
4). SeedBoxBay
Seedboxbay provider is one of the reliable and cheapest seedbox providers with various plans and different storage spaces based on the plans. This is the best seedbox for torrenting if you are looking for a uTorrent client to download files through torrents. Along with uTorrent it also supports various torrent clients but is extensively best with uTorrent. It also provides unlimited bandwidth to users along with integrated file manager that helps users to manage their torrents. It also has a wide range of pre-installed apps with the necessary support to FTP and SFTP. But it doesn't have VPN service on it or any transoid installed on it.
The main advantage of this seedbox providers is the cost-effective plans that come with unlimited monthly bandwidth. They provide mainly three plans namely, baby, seeder and torrent master plans where all plans provide the speed of 1 Gbps. The baby plan comes with 150 GB of storage at $ 5/month whereas seeder plan cost around $8/month which comes with storage of 300 GB and the torrent master plan costs $15/month which gives storage space of 600 GB.
These plans are not suitable for newcomers who require less storage with sufficient speed and costs.  All plans have 72 hours of refund policy with money back guarantee and provide 24×7 technical support to customers.
Payment Modes
All the payments can be made through Card, PayPal or Bitcoins. Though there are some cons as no VPN service and effective with uTorrent, their cost-effective plans come handy for beginners and who choose to have less storage use and want to pay on a monthly basis.
5). CheapSeedboxes
CheapSeedboxes, as the name suggests, is one of the best seedboxes with cost-effective plans offering lots of attracting features. The attractive feature this seedbox is that it provides VPN services, unlike other cheap seedbox providers. They are also providing Google drive support to the users which can help customers to sync files between seedbox and Google Drive. They have taken sufficient measure for the users' data security and privacy and assure with no recording of online activities through this seedbox. It comes with a lot of preinstalled applications and VPN services which makes using this seedbox very easy. All the data access is encrypted with SSL and data is securely stored on the cloud.
They have support to many torrent clients such as nextCloud, uTorrent, Bit torrent, emby, rutorrent, Deluge, etc. It also supports plex services. Cheapseedboxes.com offers mainly four plans namely dronebox, superbox1, superbox2, and superbox3 plans. All the plans come with support to all trackers and 1 Gbps Unlimited Bandwidth with variable storage space.
Drone box plan offers 300 GB of storage space with a cost of 10$/month, superbox1 comes at 15$/month with 500 GB storage space whereas superbox2 comes at 20 $/month with 800 GB storage space and superbox3 comes at 30 $/month with 1200 GB as storage space. All plans offer FTPs and VPN services along rTorrent and rutorrent support.  All these plans have seven days money back guarantee.
6). Seedbox.cc
Seedbox.cc is a seedbox provider that also offers complimentary VPN services with each of its subscriptions plans. It supports OpenVPN, L2TP over IPSec and also supports HTTP proxy services. It offers simultaneous VPN connections around 2 to 5 connections from multiple devices to the different or same server. Along with VPN services, seedbox.cc also offers the best cheap seedbox for plex server. Users can manage the seedbox files and store them over the cloud.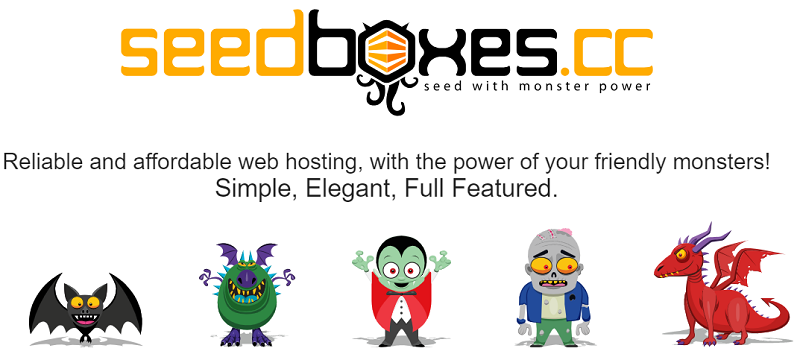 It comes with five plans namely, bat box, Gremlin Box, Vampire box, Zombie Box and Red Dragon Box. Bat box plan offers 1000 GB disk storage with 2 RB of monthly upload traffic and costs 13.45 Euros/month. Gremlin Box offers 1500 GB of Storage with 5 TB of monthly upload traffic at cost 17.95 Euros/month. Vampire Box and Zombie Box plans come with 2000 GB disk space, 10 TB of upload limit and 3000 GB of disk space, 15 Tb on upload limit with costs of 26.95 Euros/month and 25.95 Euros/month respectively.
Red Dragon offers 6000 GB with 30 TB as the limit on upload at 71.95 Euros/month. All the plans are billed annually, has server bandwidth of 20 Gbps and comes with 14-day money back guarantee.
7). Leechdrive
Leechdrive is one of the best cheap seedbox providers which plans that are very cheap when compared with other services. This is best suitable for users who require less memory in the range of 50 GB and 200 GB of hard disk space and want to save cost instead of choosing lavish seedboxes. It supports FTP, HTTP and provides VPN services on request. It also supports sharing of the service with other users and also gives variously specialized processors from Atom and Intel and cost of plan varies based on these processors.
There are around five plans, and cost of these plans range from $5/month to $10/month. The pricing is based on the processor, Hard disk space and the number of users. The least cost of $5 is for 100 GB HDD with Atom processor and five users with RAM 2 GB whereas the highest of $10/month is for 200 GB HDD with eight users and Xeon Processor with RAM of 32 GB. Provides unlimited bandwidth.
8). UltraSeedbox
UltraSeedbox provides reliable and robust seedbox services with VPS hosting and dedicated server facilities. They are high-speed seedboxes that have very low price range with some limitations. They provide high-quality bandwidth facilities. UltraSeedbox's powerful dashboard can help its customers to manage the applications and support systems. The attractive thing with UltraSeedbox provider is the different subscription plans that can be chosen based on customer requirements.
It provides plans in four categories as, Plex optimized plans, unmetered plans, cheap plans, and SSD unmetered plans. Each plan is subdivided into various price ranges with different features with each plan. Plex optimized plans are focused to provide plex services and these plans cost higher also provides an unmetered download. Unmetered plans come with unmetered plans that have both unmetered download and upload. Cheap plans according to name have low costs but have many restrictions on upload memory, and plex is not included.
SSD plans have unmetered download and also comes with plex included and has high upload limit than cheap plans. Cost of plans varies from $5.5/month to $74/month
9). Probox.space
Probox is one of the cheap seedbox services with the cost lower than many seedbox providers. It offers the connection with a speed of 1 Gbps and support torrent clients such as rutorrent and rTorrent. It also supports FTP and SSH with public and private trackers. All the plans allow the shared box connection with unlimited bandwidth and take setup time of 1-24 hrs.
All the plans are incorporated with the above features. Probox provides four plans as follows, Oscar seedbox, which offers 100 GB of storage space at cost of 5 Euros/month, Romeo seedbox offers 250 GB storage space at cost of 10 Euros/month whereas Sierra seedbox offers 350 GB with a cost of 12 Euros/month and finally, Zulu seedbox at cost of 15 Euros/month offer 500 GB storage space.
10). Foxleech
Foxleech is not a seedbox service provider but a premium torrent downloader that can help its customers to download torrents with Foxleech premium account. Users can download files from multi file hosting websites with one click and offers free rapid leech downloader which allows users to download from any link.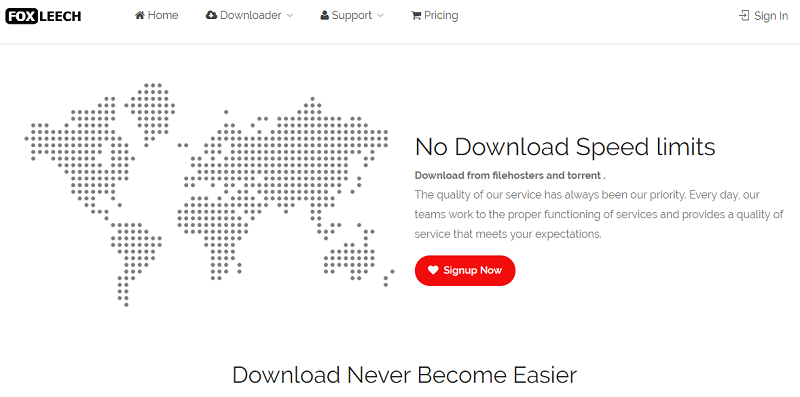 You can download files instantly from premium file hosting sites. The premium costs according to the billing cycle offer 50 GB daily premium download along with unlimited torrent downloads. Cost of the Foxleech is, 3 $/month, 5$ for 60 days of premium services, $8 for 120 days of premium services and $25 for 365 days of premium services.
11). EvoSeedbox
EvoSeedbox is one the cheap seedbox providers with plans starting from $5/month. They offer support to clients like rutorrent along with best pre-installed apps. They have preconfigured apps that can be used with one click and provides great support to customers. All the plans include plex server support expect a basic plan.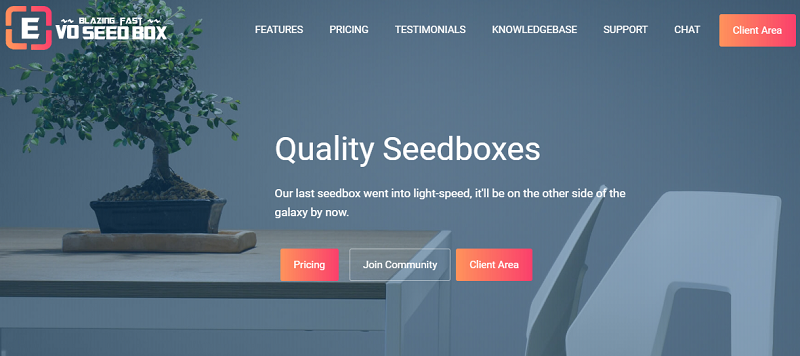 Basic plan called Blitz costs $5/month and provides features like 2 TB/month of upload limit and 150 GB HDD at $5/month. Speed plan costs $10/month and provides 4 TB limit and offers 300 GB HDD. Remaining two plans called Blaze and dash offers 600 GB HHD, 7 TB, and 1000 GB, 12 TB at costs of $18/month and $26/month respectively. It offers a 7-day money return guarantee.
12). iSeedFast
iSeedFast seedbox comes with optimized software that helps users to use it easily and quickly. It provides with server level protection with high-grade servers and full day support. They have the best hardware utilization with 4 HDD's on each server with a speed of 1 Gbps. All the plans have FTP and SFTP support with OpenVPN services on the seedbox. They also offer transoid and btsync support.
There are mainly four plans. The basic plan costs only $3/month offering 50 GB space with 1 TB of bandwidth. Seed fast standard cost $5/month which offers 100 GB space and 2 TB bandwidth. The other fast advance offers 250 GB space and 3 TB of bandwidth at $8/month whereas seed fast professional offers 600 GB and 6 TB of monthly bandwidth at the cost of 15$/month. All plans come with a 7-day money back guarantee.
13). DediSeedBox
DediSeedBox is seedbox provider that comes with dedicated servers which have SSH access and dedicated bandwidth. It also supports VPN services along with FTP and HTTP with OpenVPN installed in it. DediSeedBox offers high-security encryption to the data transferred through it. It allows for unlimited data transfer and helps to stream videos in the browser itself.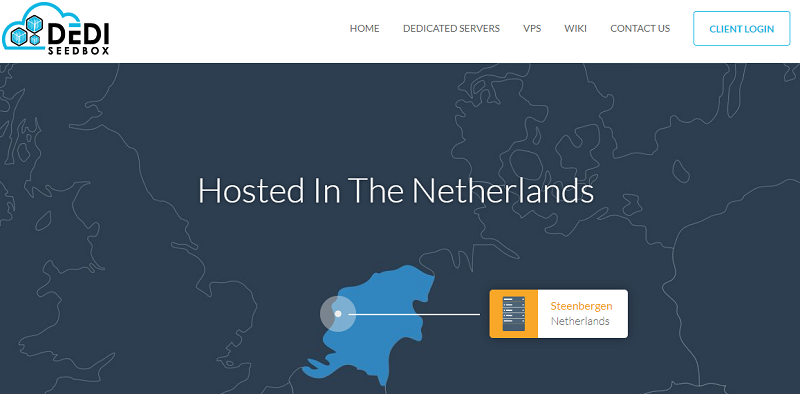 It provides Encrypted FTP and HTTP with support to rutorrent with unlimited traffic with speed of 10 Gbps. They offer three plans with costs of 15$/month, $20/month and $25/month with disk space of 1 TB, 1.5 TB, and 2 TB respectively.
So Finally Which one is the Best Seedbox?
Choosing the best seedbox from the above list is a bit difficult as all the above some of the best seedbox providers in the market. But, the best depends on the requirements of the customers and hence based on those scenarios, each of them is best in their way.
If you consider the best cheap seedbox, then SeedBoxBay, affordable seedboxes and leech drive may compete, but considering the VPN services and other inbuilt applications offered, cheapseedboxes.com can be rated as the best cheap seedbox. But, if you consider the functionality and various features available irrespective of the cost, Rapidseedbox can lead the competition of best seedbox due to its variety of features and security measures along with wide range of plans. But, package plans are bit higher than remaining seedboxes.
Final Verdict
As suggested, Seedboxes can help its owners to download and upload any files through torrent anonymously and from anywhere. But, the best of the depends on individual requirements and their usage of the Device. So, among the above seedboxes, Cheapseedboxes.com can be chosen as best cheap seedbox with VPN services and good client support. Whereas if you can ignore the cost factor, then Rapidseedbox can be recommended as the best VPS seedbox for torrenting.
Hope you got some idea to choose which seedbox for your requirement! In case if you feel that I missed something or you have some doubts, let me know by commenting down in the below comment box. So that I can help you with that! Kindly share this with your circle to help them know about the best cheap seedbox! Thank You!