Are you looking for the best freelance graphic design websites? Knowing where you can find the best freelance graphic design services list is important. Luckily, nowadays you do not need to go far to get good leads for staying in the business. No matter whether you are looking to complement your income with a side hustle or want to pursue a career in this creative arena, you will find something great here.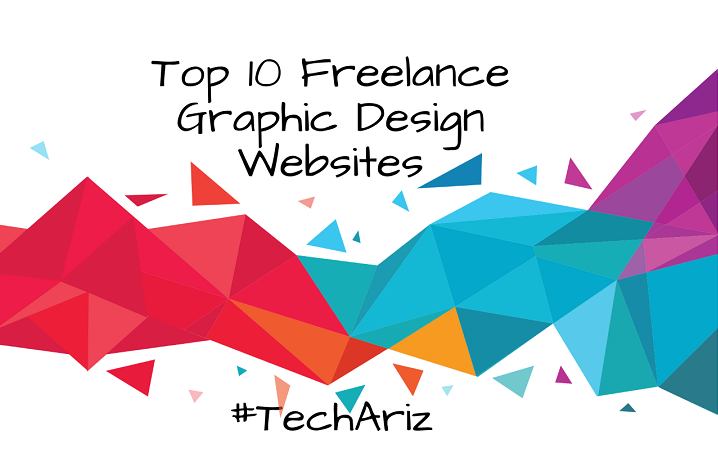 This particular trend is highly beneficial for designers and clients. This saves graphic designers from the trouble to find the clients and hassle of the payment follow up. The client selects the top designer at very economical rates and is also liberated from the stress of undergoing any continuous screening procedures. Requirement brief, deadline, and commercials are determined, and the whole process will be coordinated and monitored by a vendor or facilitator.
But, to begin as a freelance graphic designer will be tough without any place to begin. Here we are providing you the list of top 10 websites where the graphic design graduates will find freelance work on the internet. Let us start:
1. AwesomeWeb
While most of the sites we will cover focus on the quantity and turnaround instead of quality, but, AwesomeWeb has high-end clients who are looking for highly skilled freelance graphic designers. This website boasts a docket of skilled graphic designers, web designers, and programmers. When you register on this website, your portfolio and profile can be reviewed manually before clients will find you in the search results.
Due to this amazing feature, AwesomeWeb comes out to be the best freelance graphic design website for the established designers who are looking for fresh clients, however, it is not the best option for people who are just starting out. This said, in case you have an impressive resume then AwesomeWeb is an easy-to-use and hassle-free website. Customer support is fantastic, and there're not any additional fees and costs in the services.
2. DesignHill
Designhill is the biggest graphic design online marketplaces. They offer the most reliable marketplace that will connect the passionate graphic designers with the customers who want quality and affordable design services. The freelance designers can make their own portfolios and show off the freelancing work to their potential clients.
Designers have to make their own profile and submit the portfolio. Submitted work is approved and checked by an in-house consultant. When the project gets approved, designers become the part of Designhill freelance team. There are many different conducted regularly where freelancers will have to submit the work based on their client's instruction. The client chooses the top design and pays the designer accordingly.
3. The Creative Group
The next freelance website offers professional staffing solutions. The Creative Group freelancing website specializes in placing the contract-to-hire, full-time and freelance professionals in marketing or other creative projects. This website has the filter for the graphic designers that will narrow their hunt for work as per the projects.
The website has a huge and expanding network of respected and innovative companies that want creative talent, thus opportunities are available frequently.
4. MyGraphicSite
MyGraphicSite is another top blog for graphic design readers who want to level up the skillset and know more about the graphic designing freelancer service. MyGraphicSite offers a reliable marketplace for graphic design, logo design, graphics, packaging design, banner design, web design, merchandise design, Digital marketing, and other designing works. They offer the best platform for designers to make portfolios.  MyGraphicSite freelance website is the top platform for all types of freelance designers.
5. 99designs
99designs helps graphic designers to showcase their talent and work as well as connect with potential clients.  You may either run the design contest and select from the multiple applicants or can work from a one-on-one basis with a freelance designer. There're over 90 different kinds of design work accessible, and this platform assures you will get the design you love.
For helping you to make the informed choice, the designer portfolios will include some useful info over how many contests a designer has won and their number of customers. Just one designer will be hired; however, when you connect with the client they will hire you straight for future projects.
It is one good platform to build your portfolio. And 99designs provides a lot of tools, which designers may use to improve their skills. Whenever you win any contest at 99designs, you will have to pay around 30% of your earning in fees. But, for one-on-one client project rate will be lower, over 7%.
6. Behance
Behance.net is an amazing platform where freelancers will unlock the potential of their innovative works. At present, there are more than one million freelancer users being registered on this website.  Each designer will have to show their design innovation on this wonderful freelance graphic design website. The process is a bit different than other freelancing web sites out there.
The project will be defined as videos, images, and other digital contents that are based on the theme. Thus, this platform provides the most unique URL for every project that has got its appreciation and view counter. With this, the freelancer will trace count of views as well as the appreciation that they have got and kudos on the job well done. Being a part of empowering innovations all across the world, they have a platform where you will find freelance graphic jobs very easily.
7. Dribbble
Technically, Dribbble is not made to match you with the clients or find you work. However, it is a powerful tool, which will provide the proper display for your portfolio as well as get you noticed that will make all difference on the internet. Suppose you are searching for the portfolio feedback, it is the terrific community that will allow you to grow as the designer. A quick note: you will need an invite from the existing member for uploading your work, however, with a little networking, this must not be very tough to accomplish.
The screening procedure for Dribbble assures that most of their portfolios are of high pedigree. There's the job board and where you will have to match with the clients who are looking for the work, however, some benefits of Dribbble are indirect. For instance, lots of clients narrow down the field on some web sites just by filtering the options to the designers who have got an existing Dribbble portfolio.
8. Airtasker
Airtasker is the top freelancer web sites and most trusted graphic design services list, which connects the people who want to outsource their tasks as well as find the local services, and with the people who want to make money as well as ready to work.
Each month there are many new tasks getting posted on this website? It means that there is an unlimited number of chances to make income on this website. You can become the career tasker or just use Airtasket for finding supplemental or additional income during the "down" times. Select tasks that you want to complete when working for the people you wish to work with.
9. DesignCrowd
Based in Australia, Designcrowd.com is one major platform for different kinds of graphic design jobs, which includes logo design services online as well as website design contests. At present, it facilitates for over 737,329 registered users for conducting 342,193 successful projects. Designcrowd.com is the world's top-ranked custom design marketplace for potential personnel. The platform is also opened for design outsourcing. There's a huge opportunity for a freelancer to do graphic design work from home.
From a business men's perspective, the platform is the financial saver as they will set their budget starting from $99. Thus, this platform ensures that they are getting best-quality of proposals within the budgeted financial parameters. They can also set a deadline as per the project, such as three, five, or ten days.
10. Awedomeweb
Awedomeweb.com is the top graphic design online job platform that is available on the internet for freelance designers. The platform's facilities freelancers to post some of their best work on this website. Awedomeweb is the most unique and user-friendly provider without any hassle for both parties. They have launched their platform in the year 2014, and in 99 minutes, the first 100 freelancers got registered on this website.
Some of the projects that you will find on this website include logo design, infographics, sales pages, are some of them. For making an awedomeweb.com account, you need to initially pay just $27, then they will not charge any kind of commissions. They assure you for 90 days of money-back time, as you did not serve the client, and you get the money back.
Conclusion
When you are making a place for yourself on this graphic design services list, all of the freelance graphic design websites can help you to connect to the clients as well as build professional relationships with them. Most of the websites take some part of your freelancing fees as a part of the services.
Try out several platforms and find out ones that match with your work style and user experience, as well as keep at it till you find a few clients that like your work.